ABOUT
FIVE STAR
DESIGNERS.
We provide ingenious app development solutions to assist you in overcoming your business problems. We are a diversified app development company in London which accelerate businesses & processes with high speed, security, latest technologies and finest user experience.
Staff
Augmentation
Corporations which require full-fledged support in terms of technical talent or business consultancy can connect with our expert developers, designers and other technical resources. We follow a blend of off-shore and on-shore approaches for staff augmentation which will help you in accomplishing your goals

Mobile App
Development
Get a mobile app development solution that focuses on your objectives and business goals and align with latest trends and professional standards. Our app development company is dedicated in making the most actionable results and creates a high-value return to your business investment.

Web App
Development
We as an app development company, provide you web application development as per your requirements & industry standards and serve you as a partner of your digital solutions. Some of the customized services offered by us include hybrid & native app development on React Native, Xamarin, Flutter and Swift etc.

User
Experience
Our UI/UX experts utilize creative and user centric approach to give the best-in-class experiences to the consumers. From low fidelity to high fidelity designs our work contain visual ergonomics concepts that aligns with human visual processes and interactions with other elements.

QA
Testing
Creating simple and extensive test cases to assure the quality of products is our high priority. We build strategies for manual and automation testing processes and ensure that our developers and test engineers follow them to give powerful end results.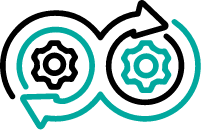 DevOps
Practices
For quality & Speed controls, our automated process of development, testing and releasing makes the software faster and reliable. These devops practices for IT operations and development provides continuous delivery of our projects with high speed.

Product Support
& Maintenance
Full-fledged product support and maintenance that account for any kind of flaws that may occur in the live system. Our goal is to provide permanent support to the clients with variety of maintenance modalities. Our nonstop corrective and preemptive actions to fix the system issues help the clients to achieve their objectives.
Brand
Design
We analyze the client's target market and work on contextual data, color psychology & emotions analytics to develop a brand that sparks a connection with the audience and turns them into loyal customers. Our brand-building strategies have strong thought processes which help us in making a long-term relationship of trust with consumers.

Marcus Gitau
Founder, Kumea
"They were willing to walk me through their ideas and provide suggestions when I wasn't sure about something."

Frank Najeeb
Program Manager, Willport Trust LLC
"Fivetsar designers and his team went the extra mile with additional changes we wanted that weren't even part of the scope. Anyone in the industry knows how these IT shops rip apart by terming features as 'out of scope'."

Alberto diaz
180degreesolutions
"The price was amazing! The quality of their work was top notch. They provided redesign suggestions to improve the site, without having to be asked. They made all the changes asked for without changing their price. When changes from the original design came up, they were fair with their price changes. We couldn't have asked for more at that price! We got MORE than our money's worth. I would highly recommend them and would hire them again the next time I need more work."

Susan Curtin
c-iqsandiego
"I have been impressed since my first contact with Jonthan Davis who reached out to me when I submitted my proposal for an updated website. He was knowledgeable and responsive to all questions and requests made. He also delivered what he had promised. He made sure the time difference did not interfere with our communications and/or deliverables. I would highly recommend 5StarDesigners to others who are interested in creating or updating their website."

Edward Kellman
Trakkerapps
"I have been requested to offer some comments describing my 2 1/2 year experience creating 4 highly sophisticated enhanced mobile accounting apps, each packed with artificial intelligence and new database technology, but simple simple simple to use."

Ayaz Aga
Head of Project Delivery, IT Company
"5star maintained a high level of communication and transparency throughout the project."